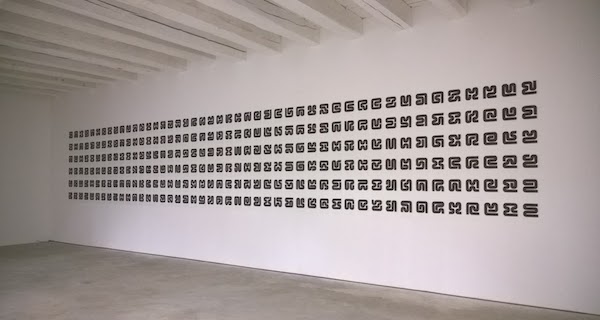 Can You Fill It? 4x4, 276 way back
- 2015
- india ink, brush on paper
- sticker with id on the back
- 276 A4 formats, wall hanging approx. 2×10m
A series of 276 brushstrokes of india ink on A4 paper. On the back each path is identified by a coding and perfectly redundant number. This series is consists of 276 unique works meant to be spread. It has only once been shown as a whole. The constituting elements are available as units or small series to be composed according to negotiated logics.
---
Can You Fill It? 4x4, 276 retours
- 2015
- encre de chine au pinceau sur papier
- identifiants sur étiquette au verso
- 276 formats A4, accrochage env. 2×10m
Une série de 276 tracés au pinceau, à l'encre sur papier A4. Au verso chaque tracé est identifié par un numéro qui le code et est parfaitement redondant. Cette série est constituée de 276 œuvres uniques censées être dispersées. Elle n'a été présentée qu'une seule fois complète. Les éléments qui la constituent sont disponibles à l'unité ou sous forme de petites séries à composer selon des logiques négociées.